Diverse – Just like Hangar-7
The Hangar-7 Merchandising Shop
Ever wondered how good a sophisticated Douglas DC-6B would look in your living room? With a wing span of 35 metres, this may seem impossible. But you needn't worry, because a true-to-scale model of this cult object from The Flying Bulls collection is now available in the Hangar-7 Merchandising Shop, as a real show-piece set in precious Swarovski crystals.
But if you're happy just to admire the historical aircraft in Hangar-7, you'll also find the right accessory in the Merchandising Shop for your own four walls – or the perfect gift for your friends and relative.
Care for a small taster of our diverse range of products? Then how about exclusive items from The Flying Bulls collection or fan merchandise for the Formula 1 World Championship winning Red Bull Racing team. You can also buy vouchers for the many different areas of Hangar-7 here.
And if you're a fan of the Hangar-7 Executive Chef and his guest chefs who visit Restaurant Ikarus from all over the world, you can recreate their delicious dishes at home, with the "Ikarus invites the world´s best chefs" cookbook series.
By the way: you can now visit the Hangar-7 Merchandising Shop at any time, from anywhere. How? Via the shop's own website, which operates 24/7 and offers secure shipping and stress-free payment methods.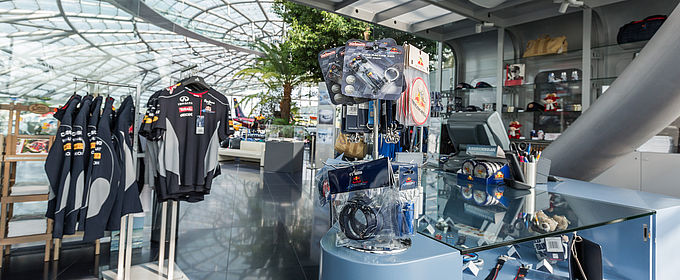 Opening hours Hangar-7 Merchandising Shop
| | |
| --- | --- |
| Monday to Sunday: | 10:00 am - 6:00 pm |