An elegant runway for take-off or landing
Mayday Bar & Threesixty Bar
In the Mayday Bar, it is not just the historical planes exhibited in Hangar-7, which can be admired from here with a bird's-eye view, that have a timeless quality: the food and drink menus are equally classic. A large selection of exquisite cocktails from all over the world, and culinary delicacies with an equally global appeal are on offer here. Which is not surprising, given that the bar food dishes created especially for the Mayday Bar are prepared by the Ikarus team chefs, who can draw on their rich experiences from over fourteen years in the guest chef concept and visits by more than 160 top chefs from the most diverse countries and continents. You can therefore treat yourself to unique compositions that make use of both classic and unusual ingredients, and in which the most varied cooking styles, techniques and philosophies come together.
Threesixty Bar – Relax in fabulous style
The Threesixty Bar is only accessible via a footbridge, which floats beneath the dome of Hangar-7. Once arrived there, an exquisite selection of champagne and sparkling wines as well as Cidre awaits.
From this exceptional bar, you can enjoy views of the legendary Flying Bulls fleet comprising aircraft and helicopters from a bird's eye perspective. This is all possible thanks to the glass architecture of the Threesixty Bar, which also incorporates the ground. The sophisticated wings of the Douglas DC-6B open out beneath your feet while you recuperate from a stressful day with a cool drink or get in the mood for an unforgettable culinary evening with an aperitif.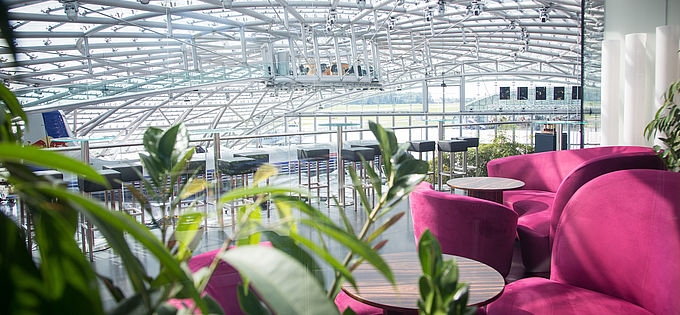 Opening hours Hangar-7 Mayday Bar
| | |
| --- | --- |
| Monday to Thursday & Sunday: | 12:00 am - 12:00 pm |
| Friday and Saturday: | 12:00 am - 01:00 am |
Bar Food International daily from 12:00 midday to 10:00 pm.
Open from 05:00 pm in fine weather.
Bar Food International dishes
Salad of yellow-fin mackerel
with turmeric, pomelo and lemongrass
€21
Buffalo chicken wings
with blue cheese dip
€18
"Fish & Chips"
cod fillets in beer batter, sauce tartare and pea puree
€19
Flatbread with Sobrasada, tomato and Burrata
€19
Empanadas
beef with mushrooms, figs and mole
€19
Miso ramen
with belly of pork, prawns, egg and young leek
€21
Risalamande
milk rice, plum and almond
€9
Banana toffee
€9