Hangar-7 Summer Feeling
Outdoor Lounge
Every airport has a visitor's terrace. The definitely most delicious, and maybe even the most beautiful has to be the Hangar-7 Outdoor Lounge at Salzburg Airport.
Here, the quality of life, fans of aircraft and grilling is enhanced at the highest level seven days a week during fine weather in the summer months. While large passenger aircraft or rarities of the Flying Bulls bustle on the large runway, guests of the Hangar-7 Outdoor Lounge can let themselves be spoilt by Martin Klein and his Ikarus Team under the open sky. Meat and fish specialities are served from all around the world which can be freely combined with various sauces and side dishes. Meals can generally be freely selected. The menu also serves as an order ticket – simply tick the boxes and enjoy a feast of your choice shortly after.
Those who are familiar with Martin Klein's love of detail and the quality of his cuisine will know what the guests can expect: delicious grilled food, prepared to the highest standards. But vegetarians can enjoy this experience too, with a richly varied selection of salads and vegetarian side dishes. And anyone who has not yet developed a passion for airplanes will discover one when they see the exclusive selection of specialties!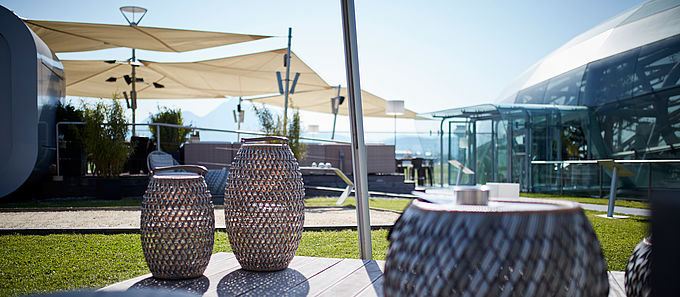 Opening hours Hangar-7 Outdoor Lounge
Currently closed and during the winter months. Hangar-7 Outdoor Lounge will open again in spring 2022.